Humphrey Fellow, Serge Adouaka-Ngoimale is visiting George Mason University for six weeks and working with Professor J.P. Auffret, director, Research Partnerships in the School of Business and associate director of the Center for Assurance Research and Engineering in the Volgenau School of Engineering at Mason on the topics of ICT for Development and Cybersecurity Policy and a topic of:
What are possible paths to foster ICT for Development in conjunction with cybersecurity policy and governance in the Central African Republic and what are best practices and initiatives of other countries in the region?
Serge is on campus as part of the Humphrey Fellowship Program which is affiliated with the Fulbright Program through the U.S. Department of State. The Humphrey Fellowship provides ten months of study and professional affiliations for mid-career scholars and professionals from developing countries. Fellows are selected based on "potential for leadership and dedication to public service" and alumni have made contributions in their home countries ranging from serving as government Ministers to starting schools and leading trans-formative policy initiatives.
The 2018-2019 Humphrey Fellowship Program consists of 150 fellows from 97 countries.
In the Central African Republic, Serge was most recently Country Security Manager at Ecobank, CAR where he managed the business continuity plan. Previously, he held the positions of Head of Card Operations, Head of IT Division and the Country Head of Infrastructure IT.
The research is timely as the Central African Republic government signed the Accord for Peace and Reconciliation with 14 armed groups in February bringing to an end the six year armed conflict in Central African Republic's eastern region of Haute-Kotto.
"Education and networking are the keys that shape the vision and its realization. We should build an active citizen that contributes efficiently to her/his community," says Serge Adouaka-Ngoimale, Humphrey Fellow 2018-2019.
Serge continues about his Humphrey Fellowship prior to his visit to Mason, "I have been at the University of Montana for four months studying English and then moved to Syracuse, New York for ten months studying Technology Policy and Management at the Maxwell School of Citizenship and Public Affairs at Syracuse University. During this time, I learned so many things about Leadership, Civic Engagement, Entrepreneurship, Crisis, and Disaster Management and experienced culture shock sometimes."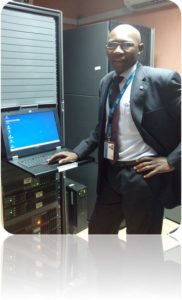 "Special thanks to Professor JP Auffret and faculty members for hosting me and guiding my research. Thank you for this opportunity to talk about my great experience here during the Humphrey year. And many thanks to all of you that make this happen. I will bring back so many things from my time here, but globally, I'll bring back leadership in technology policy and an entrepreneurship mindset," says Serge Adouaka-Ngoimale.
Serge is the seventh Humphrey Scholar Fellow to visit Auffret. Previous Humphrey Scholars that Auffret has hosted were from Afghanistan, Pakistan, Lebanon, Nigeria, Russia, and Namibia.