Escalating Cyber Threats to the U.S Financial System: Time to Think Outside the Box Conference – Offered in person and virtually
May 4, 2023, 1:00 p.m. – 5:30 p.m. (Eastern)
In-Person, Van Metre Hall, George Mason University, Arlington, Virginia
and via Zoom Webinar
Join Mason's Center for Assurance Research and Engineering (CARE), the Financial Technology & Cybersecurity Center, Mason's School of Business, and a host of experts for an executive roundtable discussion on the cybersecurity challenges facing the financial services sector and the solutions that should be pursued.
The increasing number of cyber incursions demonstrates the vulnerabilities of digital technologies and an internet that was not created to be a secure network. There are options for overcoming these increasing vulnerabilities and protecting the financial system.
Hear experts discuss current and upcoming issues in cybersecurity and the financial system including:
Financial system innovation and challenges of cybersecurity
Geopolitics and national motivations for financial system innovation and development
Crime and criminal enterprises and the financial system
Role of multilateral institutions such as the IMF and World Bank
New Web concepts to decentralize and segregate financial system critical infrastructure
Government initiatives to work with private industry
More secure software, hardware and systems
The path to global consensus
The cybersecurity alternatives that financial services companies are developing
Our faculty will be moderated by cybersecurity experts:
Dr. J.P. Auffret, George Mason University's Director, Research Partnerships, School of Business; Director, Center for Assurance Research and Engineering (CARE), College of Engineering & Computing

Cybersecurity Experts Include:
Stewart Baker– Of Counsel, Steptoe
Emily Beam, Senior Vice President, Cyber Risk Institute
John Carlson, Vice President, Cybersecurity Regulation and Resilience, American Bankers Association
Dr. Robert Coles, Interim Head of Information & Technology Security Strategy at DS Smith PLC, Former Chief Information Security Officer, Merrill Lynch, National Grid, GlaxoSmithKline
Steve Crocker, CEO and co-founder, Shinkuro
James Dever, Cofounder and Principal, Lockhaven Solutions LLC; formerly U.S. Air Force Professor of Cyber Warfare
Adam Golodner, Managing Partner, AMG Global Cyber Law, PLLC, CEO, Vortex Strategic Consulting, Co-Chair, Trusted Future
Murray Kenyon Cybersecurity Partnership Executive, U.S. Bank
Jenny Menna, Vice President, Threat Management and Response, Humana
Lisa Quest, Partner, Co-Head of the Public Sector and Policy Practice, Europe, Oliver Wyman, Co-author, Digital Trust: How Banks Can Secure Our Digital Identity; Joint Report with the International Banking Federation
Craig Schwartz, Managing Director, fTLD Registry -.Bank
Marilyn T. Smith, IT Consultant, Former Chief Information Officer – George Mason University, Massachusetts Institute of Technology
More Event Information:
There is no charge to attend the program either in person or via webinar.

Please feel free to share this invitation with your colleagues.
Registration Information: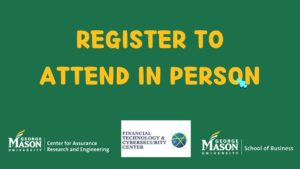 About the Hosts:
Mason's College of Engineering and Computing hosts the Center for Assurance Research & Engineering Center (CARE). CARE's multidisciplinary approach to cybersecurity encompasses the fields of technology, policy, business and leadership. Through partnerships with government and private industry, innovative research is translated into practices and policies used in real-world settings. Research includes security for distributed systems, mobile apps/devices, industrial control systems, and new technologies such as networked medical devices, as well as policies development for securing critical infrastructure and guidance for cybersecurity leadership/governance. For more information, please visit www.care.gmu.edu.
The Financial Technology & Cybersecurity Center is a nonprofit organization that brings together financial services professionals, regulators, trade association representatives, consumer group representatives, counsel and advisors to discuss, debate, and advocate in regard to financial technology and cybersecurity issues and their regulation. For more information about the Center and to sign up to hear about future events and projects visit www.fintsc.org.
The School of Business at Mason prepares a diverse student body to succeed in a global business environment through outstanding scholarship in business and expertise that ripples around the world. Instilling a strong ethical compass, a lifelong habit of learning, strong tradition of dynamic partnerships, leading faculty and creative curriculum fuels our regional economy and creates opportunities for all. Please visit: business.gmu.edu.
Contact Information:
For questions regarding the program, please contact Dr. JP Auffret at jauffret@gmu.edu or Phone at 703-993-5641 or Robert Ledig, FTCC Managing Director at rledig@fintsc.org.